ITM Joinery gives you more options when it comes to your building needs – our team of qualified designers and joiners are here to listen and understand what you need.
Interior Stairs and Wardrobes
Interior Staircases
We can design and build any staircase to fit any space. It can be architecturally designed, standard MDF, carpeted or customised to suit the style of your home. We can use any material and add non-slip material for safety to any tread.
Wardrobe Solutions
We can design and build any storage solution for your needs. We can incorporate specialised wardrobe fittings and accessories to ensure your space is well utilised. This can include shoe racks, baskets, lighting, tie and belt racks – to name but a few.
Exterior Wooden Joinery
ITM Wooden Doors and Windows
We specialise in full-house lots or one off designs for exterior windows and doors. The option is yours, they can be bi folding, french doors, opening or closing sash or standard joinery. The ITM Joinery team has many years experience in this specialised area of joinery to advise and build to any requirements. We can also offer double glazing and draft proof systems.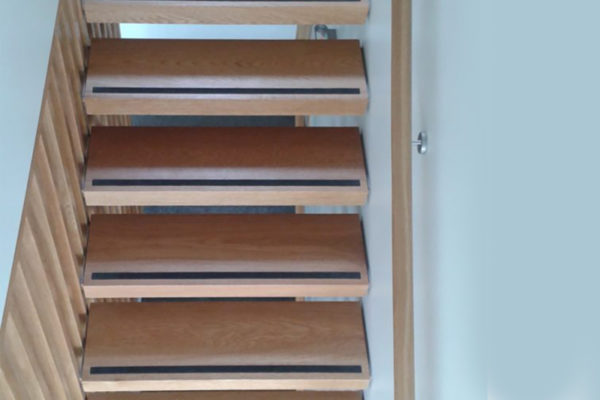 Wooden Staircase
We have the capability of building any type of exterior staircase from architecturally drawn to specific stairs to suit your needs from a variety of timbers, radiata, kwila to name but a few.
Double Glazing - Retro-Fit
If you have a character home with exterior wooden single glazed windows and doors we can install double glazing to ensure a better insulated home. This type of job is carried out on site by an experienced joiner, replacing old glazing with double glazed insulating units, and rebeading of the window. We can replace 1 or 2 important rooms or over time you may wish to upgrade the entire house. What a great selling or long term energy saving feature!
No more cold, damp and drafty windows, but you retain the original character of the wooden joinery.
Consider these benefits of Thermawood double glazed joinery:
Warmer in winter
Cooler in summer
Reduces energy usage
Reduces condensation
Reduces noise
Enhances resale value
Reduces interior fading
Increases security
Customised Storage Solutions
Shelving Solutions
Customised display shelving systems are a great way to display those family mementos as well all your hi-tech entertainment systems. We can assist you to design shelves ensuring all aspects of the space are utilised.
There is a vast array of materials that we can advise on to best suit your décor and weight loading necessities. We design your shelves with solid timber, low pressure laminate, spray lacquer finish as well as timber veneer options.
Laundry and Garage Storage
The laundry and garage of a new home are high traffic areas which need to remain tidy & safe. Match or compliment your new kitchen with built in or stand alone storage cupboards.
Bathroom Cabinets and Vanities
Planning a new build or renovation and need a bathroom vanity to fit a specific space? ITM Joinery can customise your bathroom vanity to suit your needs taking into account what storage solutions you may have, towel storage, makeup requirements, task lighting. We can also supply the basin and tapware for your bathroom.
Your bathroom vanity can either be a stand out feature or complement your kitchen joinery materials. The choice is yours, we are happy to discuss your options to ensure your bathroom is a pleasure to be in.
Your Design & Sales Team
We have put together a dedicated team that has the experience and expertise to not only help you design your new project but ensure that the quality and care of the final product is exactly what you need.
What our customers say
I really liked working with you
"I really liked working with you – your guidance & suggestions were great, providing lots of ideas & considerations that I had not thought of. You were honest too when I needed you to be flexible in that you accepted my preferences when I was wedded to them."
I'm over the moon with the kitchen!
"I just wanted to thank you again for your great work. I'm over the moon with the kitchen! I really appreciate the way you tuned into my vision – you really helped me to achieve what I had in mind. As soon as I saw it I knew that it was exactly as I had dreamed and more!"
We really appreciate
"Thank you for your time – we really appreciate having the opportunity to discuss our kitchen design with you in person. We felt that we were able to make some good decisions having your input & being able to see samples and examples of your work."
Never had such a speedy result
"Thank you for the quick job your joiners did on our kitchen units. Jon and I during our 30 years of building & design in Wellington never had such a speedy result from our joiners so we do appreciate your efforts."
10 out of 10
"Upon purchasing an ITM UNO kitset kitchen I found the product to be of excellent quality, and exceptional value for money. More importantly the staff at ITM were extremely helpful from the design stage through to the completed project. Any request for advice or any form of help I requested was instantly forthcoming. I would recommend both the UNO Kitchen products and ITM and give both 10-out-of-10."
Prompt and efficient
"Paul, we would like to thank your team for the prompt and efficient way they handled the design and quotation for our changing room and office. Isaac and the other young chap were excellent tradesmen and went out of their way to make a good job. Isaac also screwed down the flooring to help stop the squeaking. Please pass on our thanks to them."